Wants to learn a pro's technology.Wants to to begin freely
The technology which relaxation united with the manual therapeutics which prepares health can be studied on the level which can play an active part as a pro.
Since the knowledge of the manual therapeutics across which it goes variably can be studied firmly, the lesson for a total of 16 hours will become slightly severe, but the quality of the technology learned is different that much. Old graduates are having the salon evaluated by the visitor opened, although a form is various from house commencement of business to the store of a large-sized salon.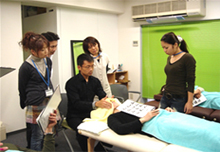 School attendance outline
Attendance qualification
Age and school education are not asked.
The school only for a woman (* male ask)
The flow to attendance

1. Inquiry

Please ask by a telephone or mail

2. Interview

He visits demand.

3. Entrance examination

The existence of general common sense and basic knowledge is judged.

4. Curriculum determination

The curriculum which suited separately is decided.
Coexistence with work is also possible.

Contents a lecture on can be taken
the "basic course" which can be freely begun at low cost, and upper person-oriented a "specialist course" -- preparation. Please look at course list for details.
Request for information
I will send data to those who wish.
Please give me an inquiry after specification of the following items in the case of a claim.
(Entry matter)
A name, a birth date, sex, a postal code number, the address, a telephone number (both a house and carrying), an occupation, the existence of experience, the day wishing admission (from about what time would you begin to like to learn?), the day wishing inspection, a wish motive
Please ask the request for information of a school from the following.
contacts